The Syndicately team has been hard at work and today we are excited to announce our newest set of features that went live this week.
Enhanced Datarooms
Too often when constructing a deal, managers and founders have to fumble around with Google Drive/Docsend links to share deal materials, pitch decks, diligence materials, etc. While these platforms are great for storing and sharing files, they introduce an extra set of links that prospective investors must manage and login to resulting in a fractured experience. Investors have a disjointed and fractured experience and deal managers don't have a single place to view and manage deal progress.
Syndicately Data Rooms are customizable spaces where you can populate both internal and shared deal materials and prospective investors in your deal can view shared materials before committing. Investors can download deal room materials and Syndicately tracks who has opened/downloaded while also tracking who has clicked the invite link to the deal itself.
For your investors, after they are done reviewing the information in the data room, they can commit to your deal and sign subscription docs in 2 clicks from the investment management page keeping to our commitment of ensuring a smooth investor onboarding and deal commitment experience.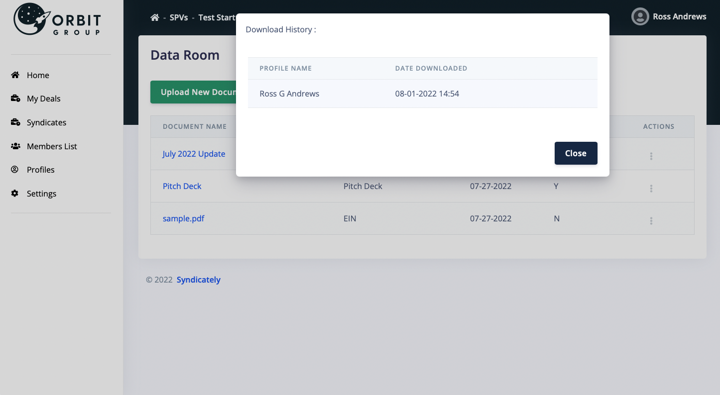 Syndicate Landing Pages
Have a syndicate, angel group, or investment club that continually does deals together and looking to continue to build your groups brand? Syndicate landing pages in our custom portals have what you are looking for. Our custom landing pages allows you to highlight your team, your portfolio, and your mission, giving you a completely custom branded landing/login experience for your members.
Our portal management tool makes it easy to update team members, your portfolio, and manage who has access to the portal, and also review requests from new individuals looking to join your syndicate.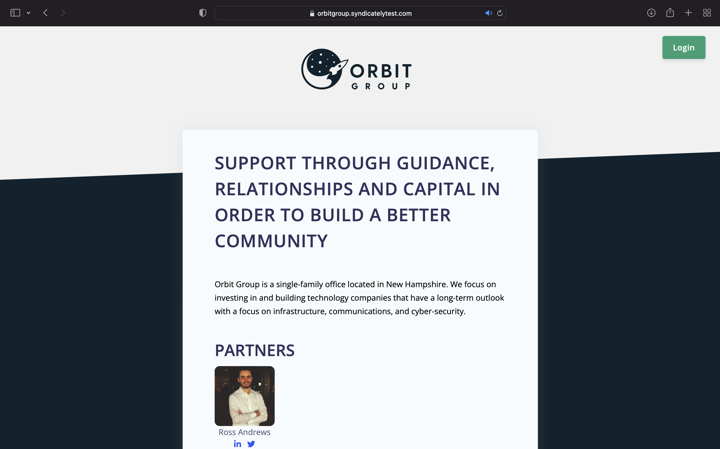 With our new custom landing pages and enhanced data rooms, managers have all the tools they need to execute deals in a seamless manner. Investors can review deal materials and commit in just a few clicks making the investment experience simple and easy to manage.
Want to see our custom portals and get a full walkthrough of the Syndicately platform? Book some time for a demo today or shoot us an email with your groups website and we will create a test portal for your organization and get you access to it so you can see it for yourself.